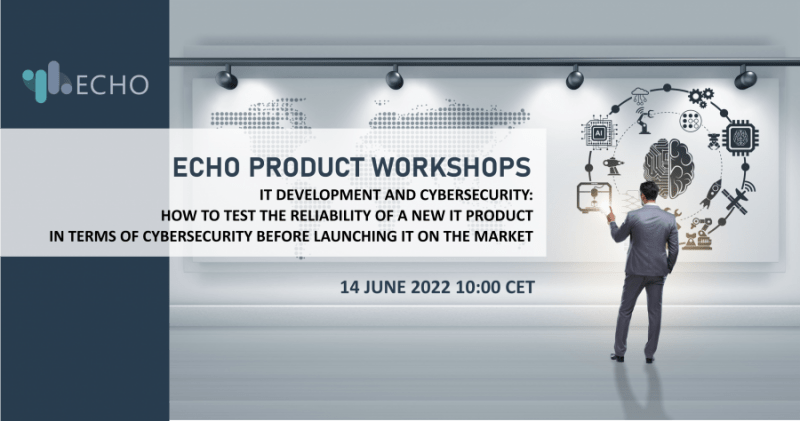 ECHO WORKSHOP – IT DEVELOPMENT AND CYBERSECURITY
SAVE THE DATE! 
 ECHO is organising a 2-hours Workshop on cybersecurity software dedicated to server protection
IT DEVELOPMENT AND CYBERSECURITY:
HOW TO TEST THE RELIABILITY OF A NEW IT PRODUCT IN TERMS OF CYBERSECURITY BEFORE LAUNCHING IT ON THE MARKET
 Date: 14 June 2022 at 10:00 CET

Location: ONLINE, MS Teams
Application deadline: 10 June 2022 at 23:59 CET
Who are we looking for?
      

Cybersecurity, information and ICT security specialists;

             

Professionals who are developing IT products (e.g web app, software); 

       S

tudents and IT enthusiasts
Course fee: free of charge

Focus of the programme 
Nowadays, IT products are widely spread around the globe and they assist human beings in their daily life. From surfing on internet to managing power plants, IT products are defining how people manage resources, workload and even spare time. Since they are very valuable and fundamental for human existence, IT products must be reliable and not prone to cyberattacks. Testing and proving the reliability of a product before launching it on the market is mandatory not to maintain the pact of trust that a customer is implicitly signing with the supplier.
Alongside the Federated Cyber Range (E-FCR) and Early Warning System (E-EWS), the ECHO project has developed a set of software prototypes that address a large variety of cybersecurity issues. 
We cordially invite you to participate in the first ECHO workshop "IT Development and Cybersecurity". It will introduce the participants to a combination of tools for testing the reliability of an IT product before launching it on the market. Especially, this workshop is going to be focused on analysing applicationa which might operate on internet. The ECHO team will scan an IT product to detect its vulnerabilities and suggest to the system designer a more secure configuration.
Here is the timetable of the workshop: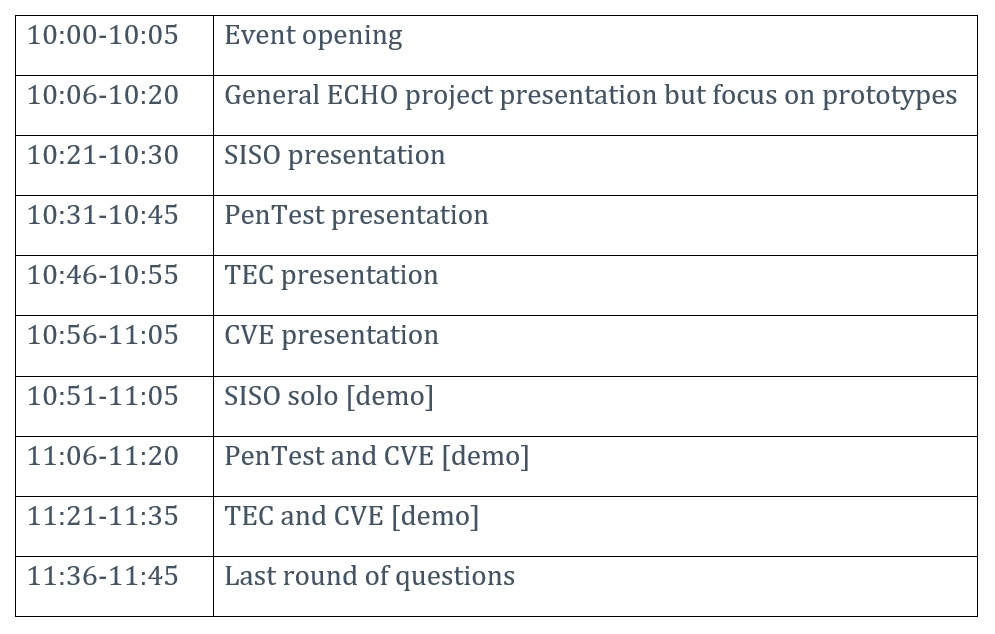 For more information on the ECHO assets check the previous ECHO workshop on our YouTube channel!
Organiser of the programme

The ECHO Workshop is organised by the European network of Cybersecurity centres and competence Hub for innovation and Operations (ECHO) 
More information: elearning@echonetwork.eu